Helios KWL Ventilation System
For your feel good climate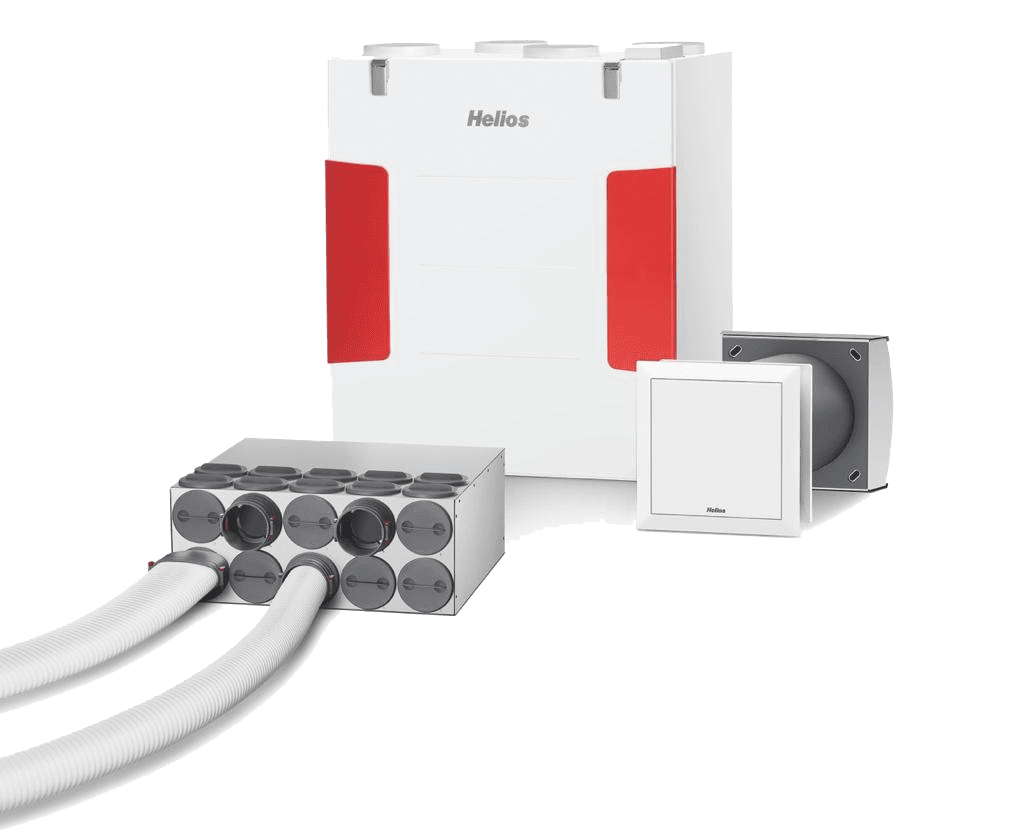 Work

Live

Leisure

Learn
Description.
A Balanced Ventilation System mechnically introduces fresh outdoor air into a home at the same rate that state indoor air is exhausted from the home. The heat recovery core allows energy/heat to be transferred from incoming to outgoing air or vice-versa in order to maintain temprature effectively.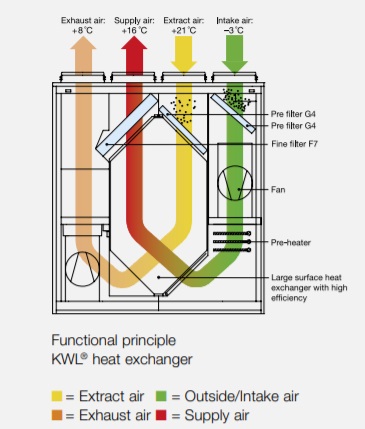 How it works?
Extract air with humidity, toxins and odours is extracted from kitchens, bathrooms and toilets via design award-winning valves to the heat exchanger in the ventilation unit. The outside air, which absorbs the heat energy from the extract air with a tested efficiency of up to 90 %, flows through this and is hermetically separated at the same time. This process can be optimised by connecting a ground heat exchanger. The air then flows through supply air valves or air inlets into the living rooms and bedrooms and creates a healthy and comfortable climate around the clock. Transfer elements ensure air circulation within the property. The exhaust air is released outside by passing through a roof or wall outlet.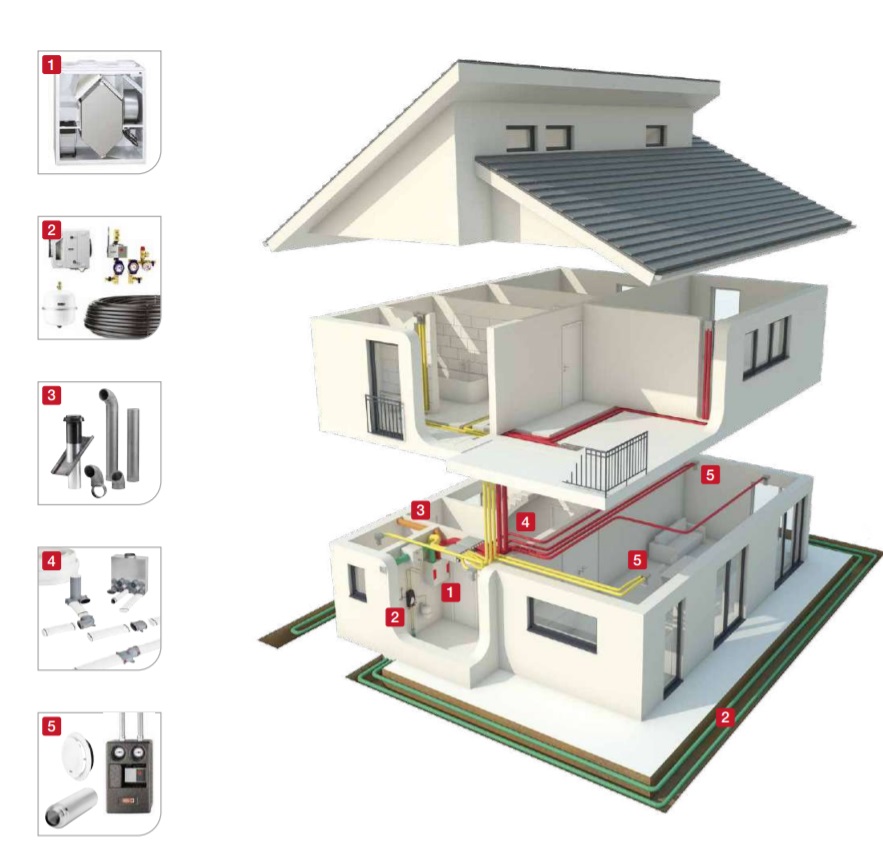 1. Ventilation unit with heat recovery
2. Ground-to-brine/air heat exchanger
3. Insulated ducting system IsoPipe® for intake and exhaust ducting
4. Air distribution system FlexPipe®plus for extract and supply air
5. Accessories like silencers, air intake and extract elements, etc.

The Types.
I. Decentralised domestic ventilation with heat recovery.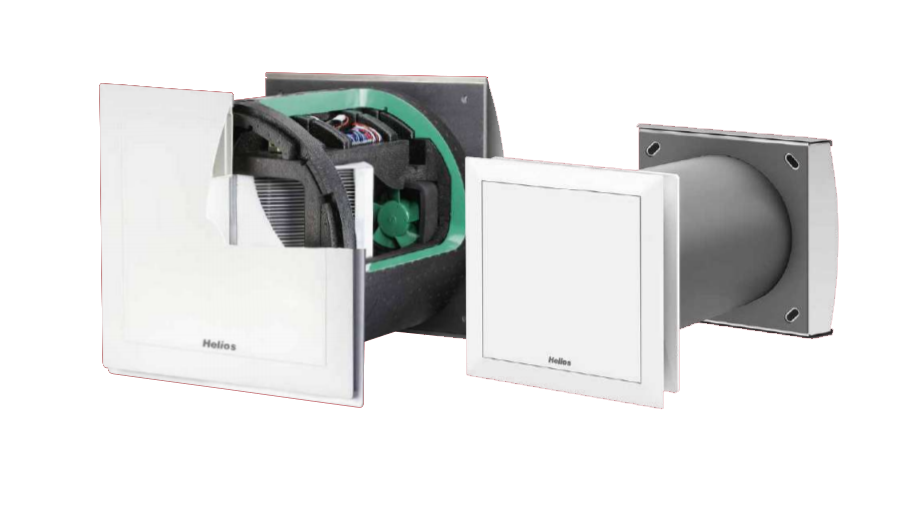 In this respect, a decentralised ventilation system with heat recovery offers major advantages, especially in renovation, as it is an economical and simple solution for single rooms.

The focus is on two main points: On the one hand, high efficiency is a prerequisite for the economical operation of the units and, on the other hand, the individual ventilation units must form a complete system in perfect coordination with each other.

The decentralised ventilation units with heat recovery from Helios are among the best in their class in both categories. Thanks to the quick and simple installation, they provide an economical solution for the supply and extract ventilation of single rooms. Residents can sit back, relax and take a deep breath of fresh air!


II. Central domestic ventilation with heat recovery.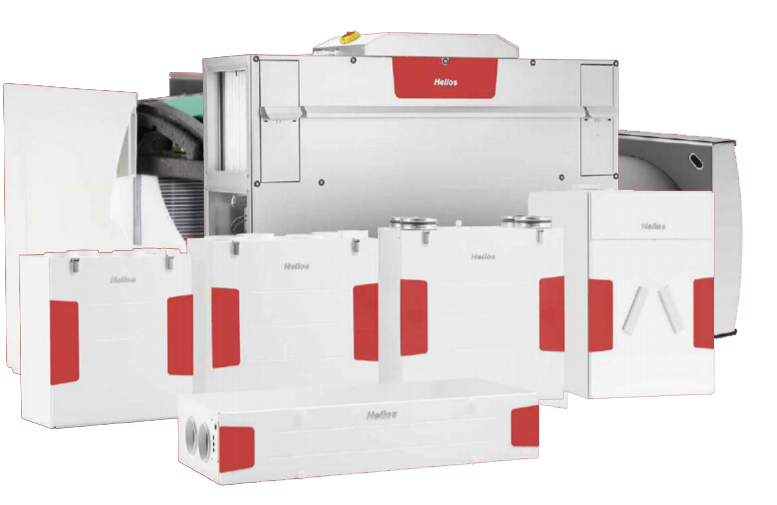 A central KWL® system with heat recovery from Helios fully ensures continuous ventilation for humidity protection pursuant to DIN 1946-6, regardless of user behaviour. The required minimum air exchange is also automatically ensured around the clock.

How it works:
The KWL® system heat exchanger continuously absorbs the heat from the stale room air and transfers it to the fresh intake air, which creates a healthy comfortable atmosphere in all rooms as preheated and filtered supply air. The heat recovery and particularly energy-saving EC fan technology reduces heating costs by up to a third.


Pollutants stay outside and contaminated room air is efficiently exchanged in a controlled manner.
Helios KWL® added value. The universal, perfectly matched Helios KWL® system solutions guarantee simple planning, secure installation and maximum efficiency.
Apartment Installation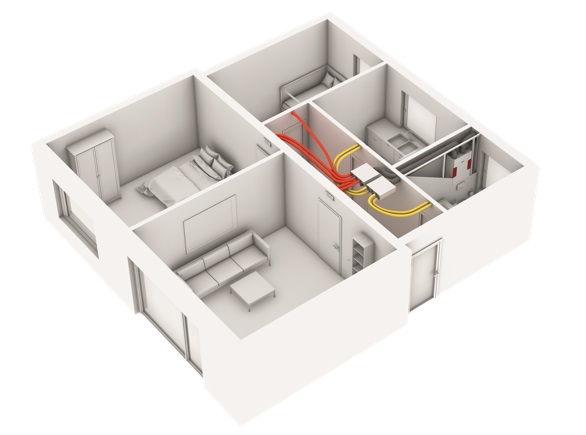 Multi Storey Installation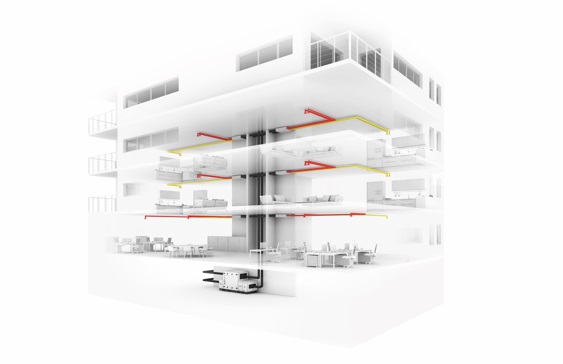 CONTROL YOUR UNIT WITH SMART CONTROLS.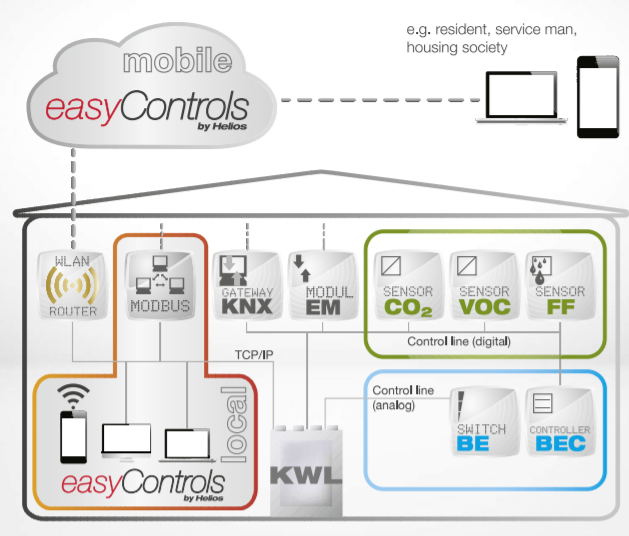 Helios easyControls revolutionises the user-friendliness of KWL® units with an integrated web server and LAN connection.

The unit types equipped with easyControls as standard (see product pages) can be integrated into a PC network quickly and easily and controlled via the convenient interface in any web browser. Whether it is a PC or laptop,tablet or smartphone. At any time and in any room
Location-independent access
Helios easyControls allows direct access to the KWL® ventilation unit, regardless of where you are. Whether you are at home or on the go via the internet, an active connection is required. Authorised users, service technicians or housing associations can conveniently change unit settings or request status information at any time via the easyControls web portal.

Building control system
The KWL® units can be easily integrated in a building control system network via the standard Modbus interface (TCP/IP) or an optional KNX module.

Easy to configure and quick to commission
Like with the controls, the benefits of the convenient interface are also evident in the system configuration and initial commissioning

Even without a PC network:
Simply connect the KWL® unit to a laptop via LAN cable and open the easyControls menu in the browser.

Always up-to-date
With Helios easyControls, the ventilation unit updates with the latest firmware quickly and easily via the internet.

Demand-controlled and energy-saving
With the aid of easyControls and the demand-controlled humidity sensor and/or optionally connected CO2,mixed gas (VOC) or humidity room sensors, the KWL® unit automatically ensures an optimal indoor environment and reliably removes air contamination caused by e.g. cooking or showering. This saves energy.

Manual operation
If there is no available PC network or if manual access is preferred, easyControls can be controlled via a comfort control element with graphic display or a step switch.


Easily control the Helios KWL® units with "Alexa"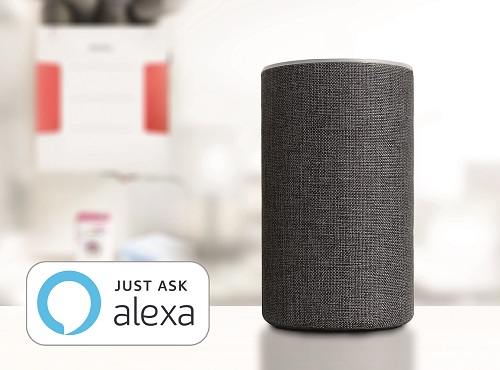 From now on, all KWL® ventilation units with the easyControls control concept can be easily controlled using Amazon's digital voice assistant "Alexa". Almost all basic easyControls control functions can be simply voice-activated without any special knowledge via a number of simple commands.
The "Alexa" skill:
> Change the ventilation levels easily.
> Air quality detection possible at any time.
> Activate/deactivate party mode.
... and much more.